MACRA 2020

MACRA - Plan and Eligibility Changes

Due to some recent confusion over plan changes and eligibility from the recent Medicare Access and CHIP Re authorization Act of 2015 (MACRA), we thought we would try to provide some clarity.

If a consumer is eligible for Medicare Part A prior to January 1st 2020, they will not lose eligibility to enroll into Plans C or F and may still purchase the plans in 2020 and beyond. Effectively, nothing changes for this group of Medicare beneficiaries.

Changes to MACRA will prohibit first dollar, out of pocket coverage of all claims on Plan F, High Deductible Plan F and Plan C, requiring *newly eligible Medicare beneficiaries to pay some of the cost of their medical care that was once covered entirely by one of these plans.

If a consumer is eligible for Medicare Part A starting January 1st 2020 or beyond, then they will not be eligible to enroll or purchase Plans C, F or HDF as an option for Medicare supplement plans. They will continue to have access to all other Medicare supplement plans.


For *newly eligible Medicare beneficiaries who can no longer purchase Plans C or Plan F in 2020, Plans D and Plan G will become the new "Guaranteed Issue" plans of choice.

*Note: "Newly eligible" is defined as those who turn 65 (or otherwise qualify) on, or after, the law goes into effect, or who first become eligible for Medicare Part A after January 1st, 2020.


Information not applicable for all states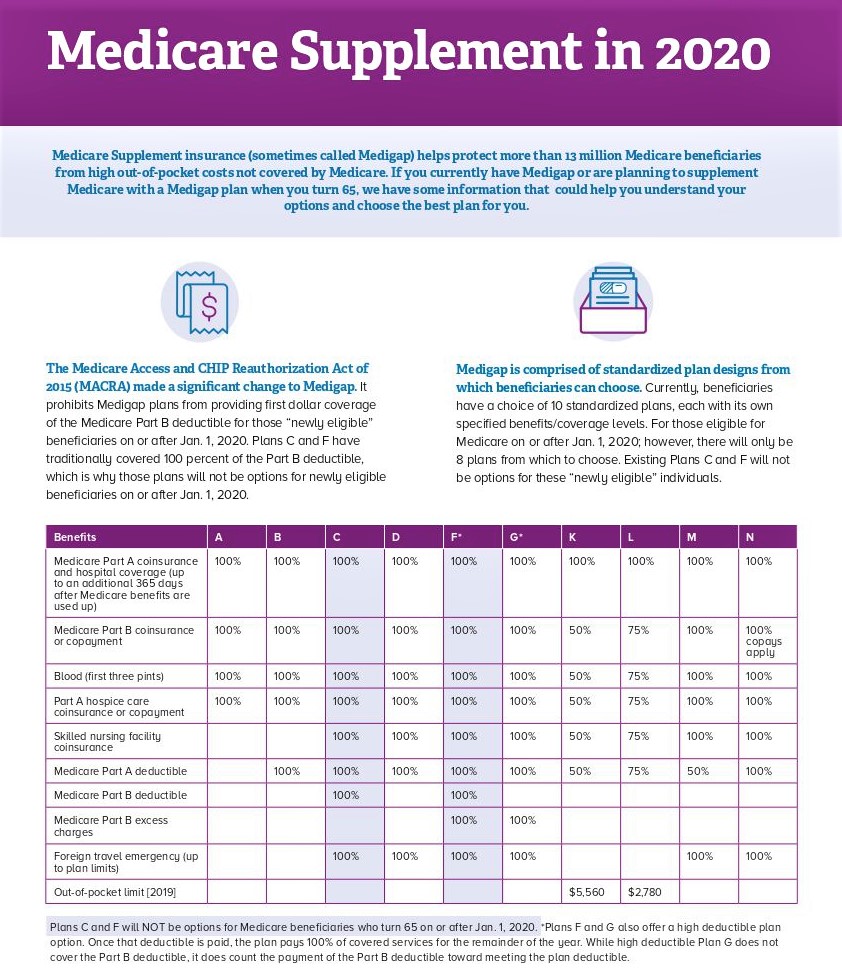 Medigap Policy Review
Do I have the right Medigap policy?
MACRA has caused many changes to Medigap policies. At LetsTalkMedicare, we encourage our clients with Medigap policies to Review and Compare, Prices and Policy Benefits frequently. New Carriers are coming into the market offering lower competitive pricing along with additional ways to save money. An example is the Household discount. Household discounts can range from 3% up to 15%. This opportunity is available when 2 or more people live in a residence and either purchase a Medigap policy from the same carrier or make up a household. This discount can impact the premium you pay monthly for your policy. Feel free to reach out to us for a Medigap Policy Review. It's easy and quick. We can search our list of Carriers and see if you may qualify to make a change and present you with a list of options. The key benefit of the change would be the opportunity to SAVE money monthly.
Fill out our CONTACT US form , give us a call, or Text Us. If you have had your policy for a few years you would be surprised that you may save money for the exact same benefits.